Munt La Schera Winter Tunnel Times 2018/2019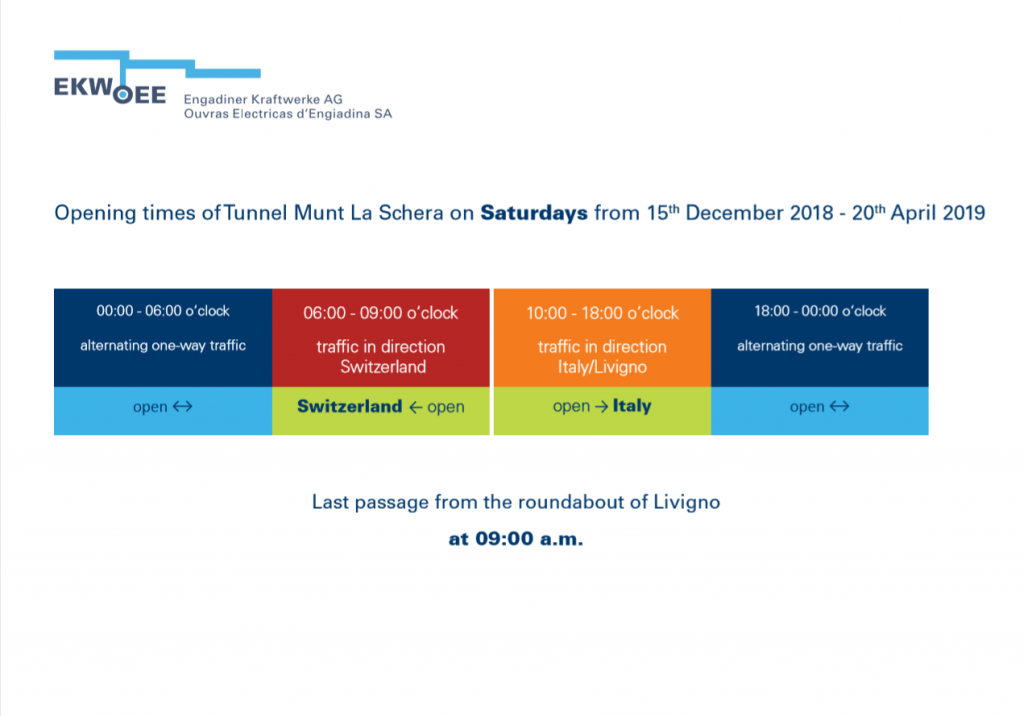 If you are planning on travelling to Livigno this season by car, then it is important to remember that the Munt La Schera Tunnel will be one of your access point.
This year there is a small change to last year's times therefore we have displayed the new timetable on this blog and this page so you can check.
If you haven't been to Livigno before or you haven't travelled via the tunnel, it is the main access point for people travelling from Northern Europe via the Swiss Canton of Graubünden.
The reason for introducing the timetable is down to the tunnel having certain restrictions, which include traffic only being permitted to travel in only one direction through the tunnel at a given time.
You will need to be mindful of these times if you are travelling independently to avoid delays to your journey and to ensure you arrive at the tunnel with enough time to be able to go through it.
Travelling through the tunnel is an experience in itself and people have filmed themselves travelling through it. On a sunny day beware of exiting the tunnel, there is a sharp bend on exit!
Opening Hours
Monday to Sunday, open 24 hours a day
SPECIAL TRAFFIC REGULATIONS IN FORCE ON SATURDAYS DURING WINTER
From 15th December 2018 – 20th April 2019
00:00 – 06:00
Alternating one-way traffic
(Open)
06:00 – 09:00
Traffic in direction Switzerland
(Open)
From 15th December 2018 – 20th April 2019
10:00 – 18:00
Traffic in direction Italy/Livigno
(Open)
18:00 – 00:00
Alternating one-way traffic
(Open)
Last passage from the roundabout of Livigno
at 09:00 a.m.