What's It Like Skiing in Livigno?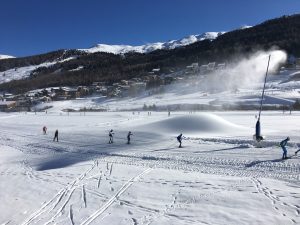 If you're considering a ski holiday for the first time, Italy might not necessarily be topping the list ahead of Switzerland, Austria and France. There is however one resort that many people think is an excellent all round resort for beginners and intermediate skiers and it won't cost you the earth either.
That ski resort is Livigno nestled in the Italian Alps close to the Swiss border just under an hour and a half from St Moritz.
Livigno Is Ideal For Beginner Skiers
When it comes to skiing, Livigno offers a wide choice of slopes that are ideal for beginners who may not want to face too much of challenge. Livigno is sometimes criticised for not providing enough of a challenge for advanced skiers but it more than makes up for this with outstanding facilities such as the impressive modern ski lift system and well maintained slopes.
As a beginner the last thing you need are bumpy slopes that are far to steep and in Livigno you will find they are much more forgiving compared to other parts of Europe where you sometimes can't be sure what will be facing you when you get off the ski lift.
Third Of Slopes In Livigno Are Blue Runs
A third of the slopes in Livigno are blue runs including one that is 7 km long from the top of Monte della Neve.
Due to its high altitude Livigno is a resort you can certainly rely on for snow. The season is a long one and lasts from November right through until May. The long season means you will find plenty of special offers early on as well as late in the ski season.
If you are in to cross country skiing, you will find plenty of trails that are long and scenic giving you the feeling that you are miles from anywhere.
Livigno has a Village-Like Atmosphere
Away from the slopes, the resort itself has a charming village like atmosphere with plenty of après ski bars, restaurants, designer shops and perfumeries where you can benefit from the duty free prices.
The beginner slopes can be accessed direct from the village without having to go and find a ski lift so if you are staying in this part of the resort everything will be on your doorstep.