When is the best time to ski in Livigno?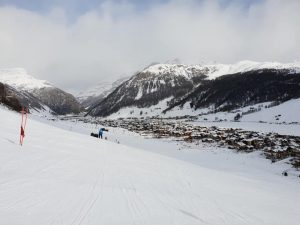 No matter where you are heading for a holiday you are going to want to know the best times to travel and ski holidays are no different.
Snow
Certainly the ideal time for most people to book a ski holiday is when they can expect snow and this is a natural advantage of Livigno. Snow generally always falls between November and April and frequently into May. So one thing you can be sure of is a good long ski season and plenty of snow.
If plenty of snow is your number one priority, then according to weather records, January is your best bet to book a ski holiday in Livigno but the months either side can still see quite significant snowfall and certainly plenty to keep skiers happy.
Cost
It is important to remember that Livigno is not just a ski resort, it is also popular with hikers in the summer due to the rugged mountainous landscape and reasonably warm temperatures average 19 degrees in August. End of December and February meanwhile are the months where you are going to see the most skiers due to Christmas and New Year and holiday periods when most people prefer to book their ski holidays.
These months therefore are going to be the busiest and most expensive to visit Livigno. The cheapest weeks are likely to be the first 2 weeks of December, January, March and the last 3 weeks in April. If you want to save even more on your skiing the free ski weeks next season are from 30/11 to 20/12 and 11/4 to 3/5 and these can be included as part of your accommodation booking.
When will it be most fun to ski in Livigno?
We can all book a ski holiday at a discount but to get the most out of your holiday you also want to have a good time. For some people this means plenty of apres ski and for others it means having plenty of space on the slopes.
There is no doubt that Christmas and New Year are the most magical times (and expensive) times of the year but if you want a bit more peace, are the first couple of weeks in December and the last two weeks in March are the better times to book. There are also special events happening through the year that you may want to experience so really this is down to personal preference.